I lost 30lbs in 2 months and I can help you lose weight too!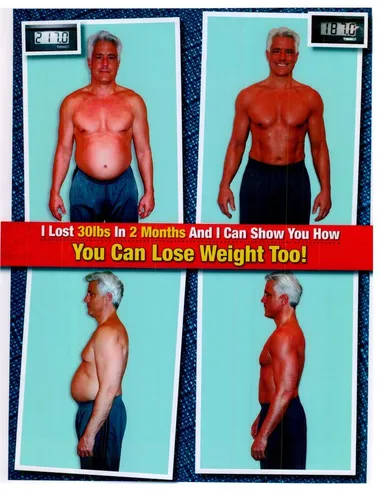 Yes folks that was me on November 4 th of 2011, 217lbs and feeling fat and disgusted. I was living in denial thinking because I exercised an hour a day 5 to 7 times per week and ate relatively healthy that my weight was under control. The truth of the matter is exercise alone doesn't lose weight and overeating even healthy food can make you fat. It's amazing how the mind can make you see only what you want to see. I must say though I was getting some hints. This past summer my clothes weren't fitting very well, so I went out and bought some "fat" pants and started wearing a clinic jacket in the office to hide my ever growing belly. The belly my 8 year old daughter would make fun of whenever she got a look at it. How humiliating!
Then in September my son and some of his and my friends were having a touch football game in the back yard, I felt so sluggish and un-agile I couldn't believe it was me running around out there. After all I was a scholarship football player in college and played competitive rugby up until I was 40.
Every night I went to bed telling myself that this was it; tomorrow I was going to start losing weight. I would lose a pound or two then put it back on over the weekend or after a night dinning out. Ever since I turned 50 managing my weight had become so difficult. It was so frustrating!
Then on November 4th I finally went on the scale, I hadn't weighed myself in probably 8 months and what a shock, by far the heaviest I've ever been. That was it, how can I be a healthy example for my patients and my kids when I couldn't manage my own weight. The answer was staring me in the face the whole time. The Take Shape for Life weight loss program is something I provided in my office since 2007. I've had many patients successfully lose weight on it but as some things go it became less of a priority and went on the back shelf. This time I became the client and went on the program and took advantage of all the support and education material. I've not only lost 30lbs in about 2 months, I've developed a new relationship with food, learned how the body gains and looses weight, why it's so important to eat every 3 hours and proper portion control. The fact is two thirds of our country is overweight or obese and all that extra weight is contributing to many health problems. I believe as a chiropractor and healthcare professional, if I want my patients to express optimal health I not only have to remove their nerve interference thru chiropractic care but also help them achieve optimal weight and fitness.